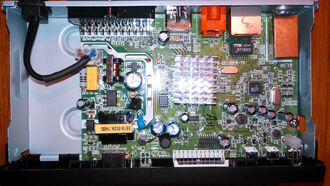 General info
Edit
DVB-T/T2 terrestrial receiver by German company Xoro. Features include Teletext, PVR, and two "Apps". There are three variants, all require different firmware. The following applies to v3.
Board is marked STB-DECODER-75. On the board can be found:
Demodulator: MSB1241 A7MN907ZA 16275 (by MStar, no public datasheet)
Tuner: Rafael R836 (according to Firmware, chip covered by RF shield)
SoC: (covered by Heatsink)
Flash Memory: Winbond 25Q32FVSIG 1626, 32 Mbit serial
Ethernet transformer decoupling: BT16B03
LED and keyboard control: WCH CH455G
Downloads
Edit
Ad blocker interference detected!
Wikia is a free-to-use site that makes money from advertising. We have a modified experience for viewers using ad blockers

Wikia is not accessible if you've made further modifications. Remove the custom ad blocker rule(s) and the page will load as expected.